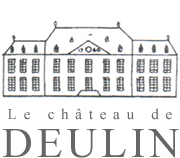 THE CHATEAU DE DEULIN - GOLF TOUR
---
Stay in the exceptional surroundings of the Château de Deulin during your golfing days.
The Château de Deulin allows you to discover the golf courses in the area, during a short stay in an exceptional environment and setting of a family Chateau that celebrated its 250th anniversary in 2010.
This private residence is exclusive for your event. You will discover the beautiful surroundings and the atmosphere of the time. The bedrooms, dining rooms, salons, listed as exceptional Walloon heritage sites are furnished and decorated by Stéphane and Dominique de Harlez de Deulin, both being well known in the antiques business.
You create your group; you choose your formula, the period of time, the number of golf courses and evening and dinner arrangements.
Information and prices: Please download our brochure.
---

Close

Open