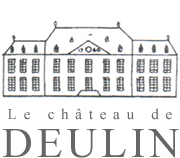 EVENTS TO COME
---
Charming Brocante - 27, 28, 29 of May 2023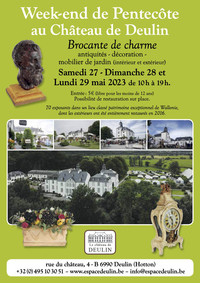 Weekend of the PENTECOST at Château de DEULIN
Charming Brocante, antiques, decoration and garden fourniture
Saturday 27, Sunday 28 and Monday 29 of May from 10am to 7pm
70 exhibitors to discover while having a walk in a castle classified as exceptionnal Walloon heritage. (Inside and outside exhibition)

Admission 5€ (free for children under 12 years old)
Restaurant open all day long in the Tower and different bars in the courtyards.
---
The Chateau is listed as an exceptional Walloon heritage site and is a typical example of the architecture from Liège. Built in whitewashed bricks and blue stones, it forms a harmonious architectural entity. The events take place in the Chateau's beautiful independent outbuildings. Stéphane de Harlez de Deulin, very professional and a passionate antique dealer, restored this building and made it a venue dedicated to special events with a great respect of the existing heritage and the beauty of the site.
The property extends over 24ha and consists of French gardens, waterways and woods. This presents you with a wide variety of choices when planning your event. The Chapel, forming part of the Chateau, is dedicated to Saint Remacle (approximately 100 people).
Accommodation is available in the bedrooms dating back to the XVIIITH century.
It is possible to access the venue a few days prior to your event for organising and planning.
We will not hire any other part of the property during your event (wedding, team building meeting, seminaries, etc…) to respect your privacy and make your event unique and tailor made for you.
---

Close

Open